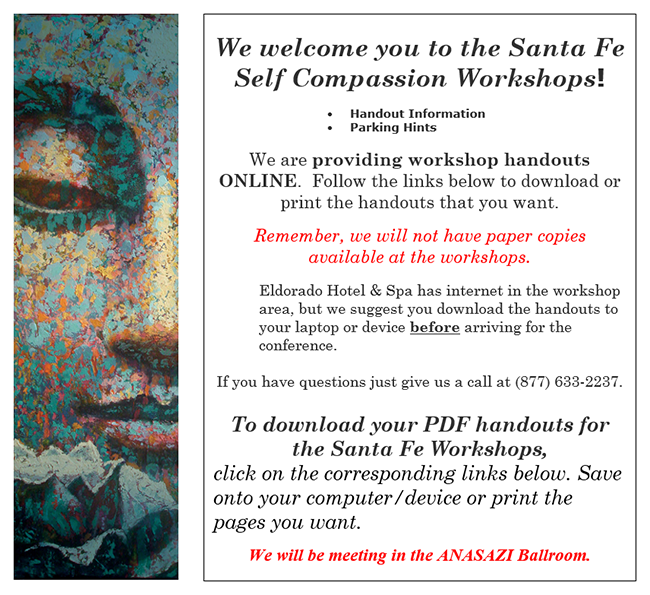 Thursday May 14, 2015
All day with Ronald Siegel, Psy.D.
Friday & Saturday, May 15 & 16, 2015
Both days with Kristin Neff, Ph.D.
The workshops will be in the Anasazi Ballroom of the
 309 San Francisco St.,
Santa Fe, NM 87501
 800-955-4455   
Parking for overnight guests at the Eldorado Hotel & Spa is discounted to $15/night. Day parking at the hotel is $24.00/day. (See suggestions below)
Close by is the SANDOVAL GARAGE, with day parking at $2/hr., or a maximum of $10/day; it is located at 216 West San Francisco Street.
Coffee & teas will be provided at breaks; snacks and meals are on your own.
Because you will be receiving so much information during theworkshops, we suggest you bring a pad of paper for notes.
As always, be mindful of those with allergies to fragrances. We suggest that you wear layers to adjust to the temperature in the workshop rooms.
We look forward to seeing you!
The FACES Team ~
Richard Fields, Ph.D., Pouria Montazeri, LPC
And Deborah Jerome