A unique opportunity to train for two days with Peter Levine, Ph.D., working on the transformation of trauma, and a full day with Ronald Siegel, Psy.D. learning how to utilize mindfulness with your clients.
Earn up to 15.0 CE's
Located on beautiful Mission Bay with easy access to walking paths & the marina.
RESERVE YOUR ROOM EARLY… $159 +tax (single or double).
Ask for the FACES Compassion Conference Rate
1441 Quivira Road San Diego, CA 92109
Call 1-888-421-1442 or 1-619-224-1234 for reservations.
Click Here to Register Online
The Hyatt is located on the marina at Mission Bay, six miles from the airport, one mile to Sea World and six miles to Downtown San Diego.
Great rate, great location, great views and hotel rooms!
CALL: 1-888-421-1442 to reserve your hotel room.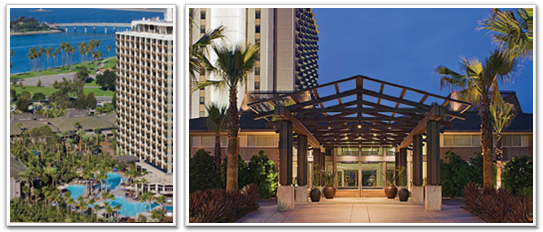 Join us for up to three days of mindfulness & compassion training, connect with friends, colleagues, and experts in the field.
Here are a few of the compassion topics that will be covered in San Diego
AGENDA for San Diego Mindfulness Workshops
November 5-7, 2015

---
November 5 & 6 (10.0 CE's)
Click here for a full description of Thursday & Friday
In an Unspoken Voice: How the Body Releases Trauma and Restores Goodness: Mind, Brain and Body in the Transformation of Trauma with Peter A Levine Ph.D.
Somatic Experiencing helps people find new, empowered body experiences to contradict the patterns established by trauma. Together, we will explore clinical insights from Body-oriented psychotherapy, and recent findings in the neurosciences, on how the brain and body deals with emotional information, providing a foundation for effective therapeutic action.
Thursday, November 5, 2015
10-Noon           In an Unspoken Voice, How the Body Releases Trauma
When we experience trauma, the body freezes in time in a highly activated, incomplete biological response. It becomes a snapshot of our unsuccessful attempts to defend ourselves in the face of threat, injury, and loss. This is demonstrated with presentations, and videos.
1:30-3 p.m. & 3:15-4:45 p.m.    Somatic Experience (SE)
The method uses education and awareness of body sensations (interoception) to help people reestablish the body's natural rhythm, recover inner regulation and wholeness, and return to a state of empowerment, harmony and compassion. This is demonstrated with educational presentations, videos, and role plays.
10-Noon            Spirituality and Trauma for Human Connection
The SEM method is demonstrated while integrating the spiritual framework of the individual to enhance human connection and support.
1:30-3p.m. & 3:15-4:45 p.m.   Special Considerations in Treating Trauma
Special clinical insights are explored in relation to healing trauma, not only for the individual but also for integrating family, and other connections.  Methods to deal with resistance, fear and anxiety are demonstrated for compassionate and effective treatment.
---
November 7, 2015 (5.0 CE's)
Click here for a full description of Saturday
Tailoring Mindfulness: Fitting the Practice to the Person with Ronald Siegel, Psy.D.
Mindfulness-based psychotherapy is the most popular new treatment approach in the last decade—and for good reason. Mindfulness practices hold great promise not only for our own personal development, but also as remarkably powerful tools to augment virtually every form of psychotherapy. Mindfulness is not, however, a one-size-fits-all remedy. Researchers are now differentiating the effects of focused attention, open monitoring, loving-kindness, compassion, and equanimity practices. Practices need to be tailored to fit the needs of particular individuals—and this workshop will show you how.
Saturday, November 7, 2015
10:00-Noon
Mindfulness: What is it Really?
The three pillars of mindfulness
What mindfulness is and isn't
How to cultivate mindfulness both inside and outside of the therapy hour
How Mindfulness Works
Identify the common factors in virtually all psychological disorders
Learn how to use mindfulness practices as their antidote
Discover how mindfulness can boost the effectiveness of all forms of treatment
Noon-1:30 pm                Lunch on your own
1:30-3:00 pm
Fit The Practice To The Person
Learn seven guidelines to tailor techniques to particular patients or clients
Discover special practices for trauma survivors, fragile individuals, and others for whom meditation can be difficult or dangerous 
3:00-3:15 pm                 Break
3:15-4:45 pm
Befriending Fear: Treating Anxiety Disorders
Use mindfulness practices to overcome anxiety by befriending fear
Practice CBT on steroids: embracing the wisdom of insecurity
Beyond Symptom Management: Resolving Stress-Related Disorders
The Strange Case of Chronic Back Pain
Treating sexual dysfunctions, insomnia, and digestive distress
See how psychophysiological disorders can be doors to personal development
---
For a full description of the presentations, please see the link at the top of the agenda.
We look forward to having you join us again in San Diego, CA this Fall!
This is a smaller workshop format…be sure to register early. Space is limited.
We thank our Exhibitors for their support of continuing education