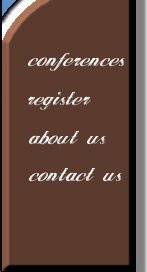 MASTERING COUNSELING
SKILLS WITH THE
MASTERS
IN NEW YORK CITY
at the
TRIBECA PERFORMING ARTS CENTER
Featuring: Irvin D. Yalom, M.D.
Professor Emeritus of Psychiatry
Stanford University
Author: Existential Psychotherapy
Newest Book: The Gift of Therapy

Other Presenters:
Donald Meichenbaum, Ph.D.,
Harriet Lerner, Ph.D.,
Scott Miller, Ph.D.,
Ellyn Bader, Ph.D.,
Ruthellen Josselson, Ph.D. and
Pamela Peeke, M.D., M.P.H.






Support NYC - Celebrate America's Resilience
Fall in New York City, NY
October 9-11, 2002
Register Early - Space is Limited
Up to 18 Credit Hours for Continuing Education
---
Agenda - Mastering Counseling Skills with the Masters

Tribeca Performing Arts Center

---
Wednesday, October 9, 2002
7:30 - 8:30 A.M. - Registration
8:30 - 10:00 A.M.
Tell Me No Lies: Truth Telling in Intimate Partnerships
Too often intimate partners avoid the difficult work of differentiation and instead they lie to themselves and each other and never build the emotional muscle necessary for a strong, intimate connection.
Ellyn Bader, Ph.D.


Co-director, The Couples Institute, Menlo Park, CA.
Co-author, Tell Me No Lies

10:30 - 12 NOON
The Borderline/Narcissistic Couple
Borderline partners regress easily and distance, while narcissistic partners avoid vulnerability attack when hurt and only give when it is convenient for them. This presentation highlights areas of focus for the therapist so that he/she can avoid getting overpowered by the couple's defensive styles.
Ellyn Bader, Ph.D.

12 NOON - 1:15 P.M. - Lunch (on your own)
1:15 - 2:45 P.M.
Anger & Aggressive Behavior: A Life-Span Treatment Approach
Examine the nature and development of anger and aggressive behavior from a life-span perspective.
Donald Meichenbaum, Ph.D.


Professor Emeritus, University of Waterloo Research Director
The Melissa Institute for Violence Prevention and the Treatment of Victims of Violence

3:15 -4:45 P.M.
Treatment of Individuals with Anger-Control Problems
A case conceptualization model is presented for assessment and treatment including the challenge of predicting and preventing violence.
Donald Meichenbaum, Ph.D.

---
Thursday, October 10, 2002
7:30 - 8:30 A.M. - Registration
8:30 - 10:00 A.M.
Pathways to Possibilities with Difficult Cases
Scott Miller, Ph.D.


Co-founder, Institute for the Study of Therapeutic Change
Author, The Heart and Soul of Change

10:30 - 12 NOON
Creating Hope with the Borderline Client
Scott Miller, Ph.D.

12 NOON - 1:15 P.M. - Lunch on Your Own
AN AFTERNOON WITH IRVIN D. YALOM, M.D.
The Gift of Therapy: Existentially Flavored Tips
1:15 - 2:45 P.M.
The Existential Approach
Process and content, and the nature of the therapeutic relationship - empathy - support.

3:15 - 4:45 P.M.
| | |
| --- | --- |
| | The therapists use of self, the use of dreams in therapy - the hazards and privileges of being a psychotherapist. |
---
Friday, October 11, 2002
7:00 - 8:00 A.M. - Registration
8:00 -9:30 A.M.
The Toxic Stree-Toxic Weight Connection
How Stress Shedding Lengthens Life. New scientific findings in the field of stress physiology have shed light on the relationship between chronic stress and its impact on every body system. This presentation describes a three-pronged approach to preventing or treating stress fat with practical implications to daily life.
Pamela Peeke, M.D., M.P.H.


Pew Foundation Scholar in Nutrition and Medicine.
Assistant Professor of Medicine, University of Maryland.
Adjunct Senior Scientist NIH.
Author, Fight Fat After Forty: The Science of the Stress-Fat Connection

9:45 - 11:15 A.M.
Group Therapy: Application of an 8 Dimensional Model of Relationships
Ruthellen Josselson, Ph.D.


Faculty, The Fielding Graduate Institute.
Professor of Psychology, The Hebrew University of Jerusalem.
Author, The Space Between Us: Exploring the Dimensions of Interpersonal Relationships.

11:15 - 12:15 P.M. - Lunch (on your own)
12:15 - 1:45 P.M.
Creating One Another - or Why Relationships are So Difficult
How people "are" is an intricate mixture of their personality qualities AND the way in which we fit them to our pre-existing patterns and expectations of how people are. Therefore relationships can only change when we change our way of viewing the other person.
Ruthellen Josselson Ph.D.

2:00 - 3:30 P.M.
The Dance of Connection: The Challenge of Authenticity & Voice
Dr. Lerner will address the challenges of staying connected, staying oneself, and "finding a voice" so that we can speak wisely and well about the most difficult subjects and the most difficult people - and help our clients do the same.
Harriet Lerner, Ph.D.


Clinical Psychologist, was a staff psychologist at the Menninger Clinic for more than two decades
Author, New York Times Bestseller, The Dance of Anger, Women in Therapy
"One of our nations' most respected voices on the psychology of women and the process of change in families."

---

Conference Site

Tribeca Performing Arts Center - Theatre 1 is located within the Borough of Manhattan Community College at 199 Chambers Street, New York City, NY. Telephone: (212) 346-8500. The center has easy access from many subway and bus lines (directions to the center will be mailed upon receipt of registration).

Hotel Accomodations: The following hotels have a special discount for FACES Conferences attendees, just call them directly and ask for the FACES Conferences special group rate.

BEST DEAL - EMBASSY SUITES, NEW YORK (www.embassynewyork.com) We highly recommend this hotel, within walking distance of the Tribeca Conference Center. Two-room suites, cooked to order American breakfast, and cocktail hour free. This 4-star hotel is a find for NYC - Special group rate - $209 plus tax (single or double) weekdays, $179 plus tax (single or double) Friday and Saturday. Mention the FACES Conferences special group rate. Call by September 15th, (212) 945-0100.
Other Alternatives: Holiday Inn - Downtown, 138 Lafeyette - $179 plus tax (single or double). Call by September 15th, (212) 966-8898
The Best Western - Seaport Inn - $164 plus tax for a single bed, $174 plus tax for two beds. Call by September 8th, (212) 766-6600.
Other hotels and general visitor information: Call NYC Convention & Visitors Bureau 1-800-692-8474 or online at www.nycvisit.com.

Put Yourself on Broadway: Information - www.live-broadway.com. 50% off Broadway shows: Visit the TKTS Booth at 4th & Broadway.



---


Continuing Education Credit - 2002 New York City

CEU credit 6.0 hours per day, 18.0 hours for all three days.
FACES Conferences can provide up to 18 hours of the following credit:

APA for psychologists: FACES is approved by the American Psychological Association to offer continuing education for psychologists. FACES maintains responsibility for the program (Approval pending)
NBCC National Board of Certified Counselors - FACES is recognized by the National Board for Certified Counselors to offer continuing education for National Certified Counselors. We adhere to NBCC Continuing Education Guidelines. Provider # 5717
NAADAC Provider: Approved by NAADAC Approved Education Provider Program # 000281 for up to 18 contact hours.
CAADAC: Provider #OS-99-432-1203 for up to 18.0 hours of credit.
California Board of Behavioral Sciences Provider #PCE 1685. Course approved for up to 18.0 hours of continuing education credit for MFCC's and/or LCSW's as required by the CA Board fo Behavioral Sciences.
NASW - New York: Approval pending.
Maryland State Board of Social Work: Approval pending.
Pennsylvania State Board of SW, MFT & PCs: Approval pending.
NASW - New York: Approval pending.
Connecticut:Meets requirements for CT Social Workers.
New Jersey Social Workers: Submit as an individual to the State Board of SW.
Nurses:WA State Nurses Association: Approved for up to 21.6 ED I hours by Washington State Nurses Association. Meets requirements for NY Nurses.
CA Board of Registered Nursing: Provider approved by the CA Board of Registered Nursing, Provider #CEP 13184, for up to 21.6 contact hours.

Full time conference attendees who complete all required evaluationa and attendance documentation are eligible to receive the maximum number of contact hours. Daily registrants can receive credit for each day of attendance. No credit will be awarded for partial days. This program is open to professionals and advanced students in health-related fields and is not suitable for the general public. If your credentialing agency is not listed, please contact them to determine eligibility.
---

Refund Policy:All requests for refunds must be made in writing. Requests postmarked by August 25th will receive a full refund, minus a $55.00 administrative fee, or full credit to a future FACES conference. No refunds will be made after August 25, 2002.


---

Conference Goal: To provide the most current and relevant content for counseling skills.

Return to the Top of the Page






Home - Conferences - Register - About FACES - Contact FACES

Copyright © FACES All rights reserved.