Join us for our 5th Annual Conference…
We have a full day with Rick Hanson!
Earn 5-17 CE's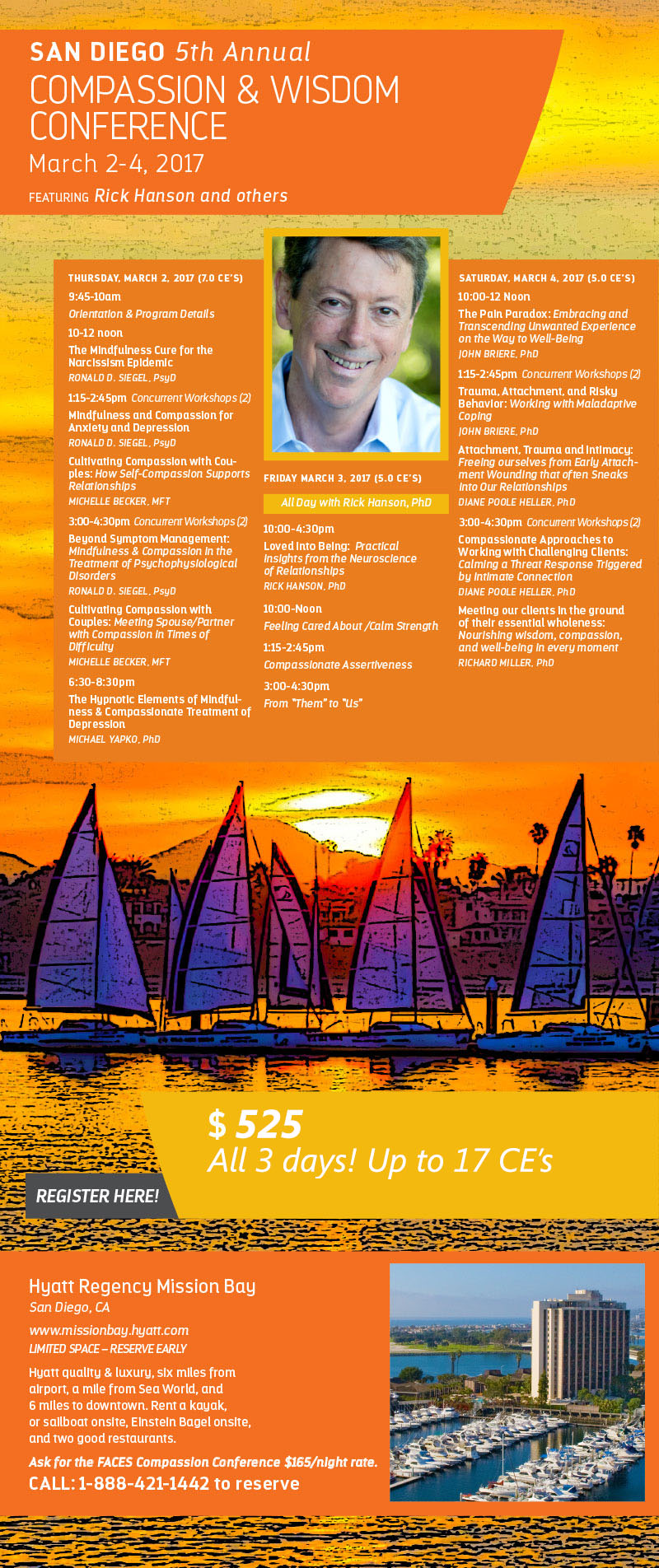 ---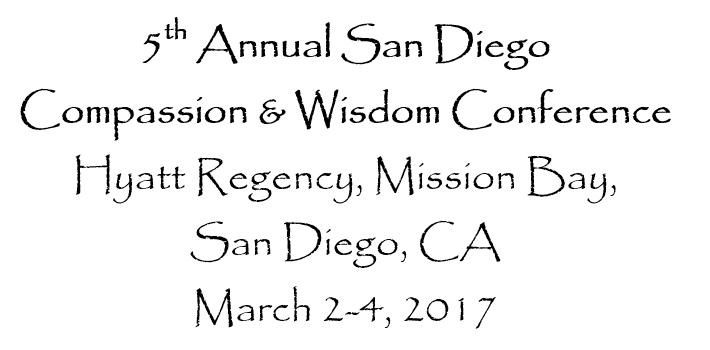 ---
THURSDAY, March 2, 2017 (7.0 CE's)
9:45-10 a.m.
Orientation & Program Details
10:00-Noon
The Mindfulness Cure for the Narcissism Epidemic
Ronald D. Siegel, Psy.D.
Assistant Professor of Psychology, Part Time, Harvard Medical School; Author, The Mindfulness Solution: Everyday Practices for Everyday Problems
1:15-2:45 p.m.
Concurrent Workshops (2)
Mindfulness and Compassion for Anxiety and Depression
Ronald D. Siegel, Psy.D.
Cultivating Compassion with Couples: How Self-Compassion Supports Relationships
Michelle Becker, MFT
Senior teacher Trainer and Co-Founder, Teacher Training, Mindful Self-Compassion; Licensed Marriage and Family Therapist, Private Practice, San Diego, CA.
3:00-4:30 p.m.
Concurrent Workshops (2)
Beyond Symptom Management: Mindfulness & Compassion in the Treatment of Psychophysiological Disorders
Ronald D. Siegel, Psy.D.
Cultivating Compassion with Couples: Meeting Spouse/Partner with Compassion in Times of Difficulty
Michelle Becker, MFT
6:30-8:30 p.m.
The Hypnotic Elements of Mindfulness & Compassionate Treatment of Depression
Michael Yapko, Ph.D.
Author of 16 books, including the textbook Mindfulness & Hypnosis; Life time achievement award from the American Psychological Association (APA)
---
FRIDAY, March 3, 2017 - All Day with Rick Hanson, Ph.D. (5.0 CE's)
10:00-4:30 p.m.
Loved into Being:  Practical Insights from the Neuroscience of Relationships
Rick Hanson, Ph.D.
Psychologist, Senior Fellow of the Greater Good Science Center at UC Berkeley, New York Times best –selling author, including Buddha's Brain, Hardwiring Happiness, Just One Thing, and Mother Nurture
10:00-Noon
Feeling Cared About — Calm Strength
1:15-2:45 p.m.
Compassionate Assertiveness
3:00-4:30 p.m.
From "Them" to "Us"
---
SATURDAY, March 4, 2017 (5.0 CE's)
10:00-Noon
The Pain Paradox: Embracing and Transcending Unwanted Experience on the Way to Well-Being
John Briere, Ph.D.
Associate Professor of Psychiatry, USC; Director, USC Adolescent Trauma Training Center; APA Award for Outstanding Contributions to the Science of Trauma Psychology; Remote Faculty, Institute for Meditation and Psychotherapy, Author/editor of 15 books, including Principles of Trauma Therapy and Mindfulness-Oriented Interventions for Trauma.
1:15-2:45 p.m.
Concurrent Workshops (2)
Trauma, Attachment, and Risky Behavior: Working with Maladaptive Coping
John Briere, Ph.D.
Attachment, Trauma and Intimacy: Freeing ourselves from Early Attachment Wounding that often Sneaks into Our Relationships
Diane Poole Heller, Ph.D.
International Lecturer, Somatic Experiencing trainer, DARE – Dynamic Attachment Re-Patterning Experience; expert in Trauma Resolution. Author of Crash Course: A Self-Healing Guide to Auto Accident Trauma and Recovery.
3:00-4:30 p.m.
Concurrent Workshops (2)
Compassionate Approaches to Working with Challenging Clients: Calming a Threat Response Triggered by Intimate Connection
Diane Poole Heller, Ph.D.
Meeting our clients in the ground of their essential wholeness: Nourishing wisdom, compassion, and well-being in every moment
Richard Miller, Ph.D.
Clinical psychologist, author, researcher, yogic scholar, and spiritual teacher. Founding president of the Integrative Restoration Institute, co-founder of the International Association of Yoga Therapists. He is the author of The iRest Program for Healing PTSD: A Proven-Effective Approach to Using Yoga Nidra Meditation and Deep Relaxation Techniques to Overcome Trauma; iRest Meditation: Restorative Practices for Health, Resiliency, and Well-Being; and Yoga Nidra: The Meditative Heart of Yoga.
---
For a full description of the presentations, please see the link at the top of the agenda.
Thank you to our exhibitors/sponsors